It's been a few weeks since I've participated in Mama Kat's Writer's Workshop, so I thought I'd jump in again this week, since I'm being all posty this week.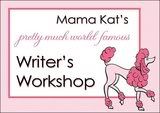 This week I chose Prompt #5.
10 Reasons why you love your job.
1. The Paycheck that comes fairly regularly. Every week when I get my "Payday" reminder in outlook? I'm all happy that I will have the illusion that I have money again. For a few minutes.
2. My boss is not an asshat. This is important. I think he is the first non-asshat boss I've had. It really makes a difference, actually. He's actually pretty amusing, which is an extra bonus.
3. It is not the Post Office. I did 7 years hard time as a postal worker. The stereotype of "going postal"? Is there for a reason. I determined that no matter how much I hated my job, my idiot supervisors, and many of my idiot coworkers? None of them were worth jail, than you very much.
4. The internet is there. What else needs to be said? I <3 the internet. So much.
5. I have 2 monitors. Now I'm just bragging. The 2 monitor thing? Is so freaking awesome. Altho it does make my laptop at home seem woefully inadequate, what with it's single screen and all.
6. I have not slept with anyone I work with. Sleeping with coworkers has only worked out well for me once. I married that one. Previously? I ended up dealing with really immature men creating drama. And one stalker.
7. We frequently get cake. Everyone in this place is pregnant. I'm afraid to drink the water here. But all these pregnant people? Get baby showers. And baby showers mean cake. I <3 cake.
8. I have a whole file drawer full of snacks. Munchies? Are crucial to maintaining my sanity through the day. Seriously. If I don't eat regularly? I turn into psycho bitch. And no one likes that.
9. There is a Chipotle within lunching distance. No explanation is necessary for this one.
10. I love the feeling of being just Me for 8 hours a day. No one expects me to clean up their poop, cook for them, or do their laundry.