I'm hopping into Mama Kat's Writer's Workshop this week since I have a good story for prompt #4
A hair disaster.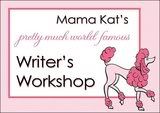 I was probably 18 at the time. I had decided that I would dye my medium blonde hair black for Halloween. I got the temporary black dye - the kind that says "Washes out in 6-8 shampoos!" right on the box. My hair was long enough that it actually took 2 to get it all, but I got it all. And it was pretty cool.
But then, about a week or so later (yeah, about a 6-8 shampoo period), the black was not washing out the way the box claimed it would. My hair was now a sickly blackish-green color. Dammit.
Kept waiting for it to wash out. Just became less black, more green. DAMmit.
So, using color wheel technology, I bought a nice red/brown color to counteract the green. Added this to my hair. Was WAY redder than the box claimed it would be, but ok. At least red is a naturally occurring hair color. I bought semi-permanent this time. I wanted slower-acting color change until the green had plenty of time to realize its defeat!
But as time went on, the brown began washing out of the red/brown color. And my hair was becoming quite orange. Rather carrot-like, in fact. Dammit.
Again, I apply my color wheel technology and I buy a nice ash blonde to counter the orangey red...but not go so far as green. This color did the job. But promptly washed out in 6-8 shampoos. Son of a...
I got another box of ash blonde, hoping that by the time this one washed out, most of the orange would've come with it.
Nope.
Now, I threw in the towel. I went to a salon. $100 later, I had my "root color" which is essentially a light brown. I was told to return later to get the blonde highlights put back.
When I returned, they put a plastic cap on my head (reminiscent of my great grandmother's plastic kerchief thing she used when it rained...) and proceeded to use something resembling a crochet hook to pull out pieces of hair from beneath the plastic cap.
Mind you, my hair was probably mid-back in length. Pulling little strands up through a plastic cap? Is not going to end well.
While I did get my blonde back, it cost me like $200 and resulted in like 2 days of conditioner-laden combing.
Beyond a couple of minor kool-aide bang-dyeing excursions, I have never again messed with my hair color.