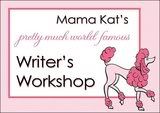 4.) Write a letter to whatever is stopping you from losing the extra weight you'd like to lose.
Dear Spare Time,
I have to tell you that I really miss you. It seems like we only see each other when I'm hanging out with Exhaustion. I mean, we used to be so close. We'd watch movies together, write poetry together, go to concerts... Remember, we'd exercise together! And especially those dance classes we used to take together.
I take my fair share of the blame for our current situation. I know that once Boo was born, I just didn't have time for you the way I used to. Really, it wasn't personal. I just needed time with my son.
I know that I've been spending a lot of time with School, and I know what you might be thinking, but really, the time School and I spend together, is
nothing
like the time you & I spent together.
I know that you've seen Hub and Princess around, too. But they're cool, and I think you'd enjoy hanging out with all of us. It does seem as if you don't like Boo & Princess, but they're my kids, so I do wish you'd try. Even if it's just for old time's sake.
Look, having Boo has left me with like 40 extra pounds that were never around when you & I hung out. I miss our time together & I miss how fit I used to feel when you were around.
Please, I miss you, Spare Time. Just try to get used to Boo & Princess. Maybe we could take walks together again. Or maybe take that dance class we used to like so much. I know I've neglected you the past few years, and really, I feel terrible about that. But it would mean so much to me if you'd come back.
With love,
Mrs. B.